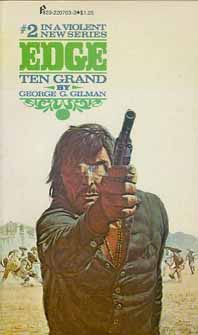 I read an interview yesterday with an author named Terry Harknett, aka George G. Gilman. If you don't know him, Harknett is the author of almost 200 books, mostly pulp novels in the western and crime genres. Talk about prolific! In some cases he wrote and published a DOZEN books a year.
In the interview, Harknett talks about his popular Edge series of pulp western novels, which are being republished for the Kindle. There are a number of things he said which are worth reading if you are a professional writer / copywriter (or you want to become one!)
First, you must write…every day! "If you are determined to become a published writer, apply the seat of the pants to the seat of the chair and write," said Harknett. This is the TOUGHEST part of being a writer. But really it's the sole requirement.
That's because…
Professional writer's write… just as pro painters paint, pro chefs cook and pro baseball players play baseball.
Next, if you want to get paid to write, find a paying market for your work. "As a professional writer with a mortgage to pay…I continued to supply books my publishers knew my readers wanted," says Harknett. Turns out Harknett — who made his mark writing western novels — disliked reading westerns! He also detested violence…yet his westerns were known for being ultra-violent.
But he also keenly understood the first rule of selling anything, from encyclopedias to screenplays…
Find out what the other person wants and give this to them.
If you can follow this simple rule when you write, you can sell your writing for money all day long.
Lastly, he suggests reading good writing of other people to improve your writing. "Read books by the writers you admire and do your best to emulate, rather than copy them," he suggests. (This was the same advice given by Gary Halbert to anyone looking to become a direct response copywriter.)
You can find a few more nuggets of advice from Harknett by reading the interview here.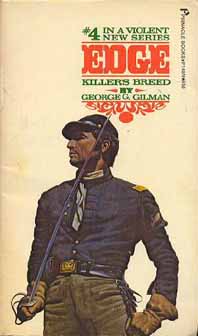 Speaking of reading good writing, may I give you a strange suggestion to improve yours? I highly suggest reading the following FICTION authors. And not just fiction authors, but guys who wrote pulpy genre fiction such as crime fiction, hardboiled noir, science fiction and fantasy.
Why these books? First off, the guys who wrote these were all pro-writers. They wrote literally hundreds of books in a series, cranking them out year-after-year, sometimes publishing multiple titles under pseudonyms and pen names. Many of them were also ex-newspaper reporters, which meant they wrote tight, action-packed copy…no fluff…the perfect style for direct response marketing. Finally, they all know how to tell a gripping yarn. Read them if you want to improve your storytelling.
Here is my list of pulp fiction books and authors to inspire your copywriting:
1. The Destroyer series by Warren Murphy and Richard Sapir (Chinese Puzzle, Union Bust, Slave Safari, Mugger Blood, etc.)
2. Matt Helm series by Donald Hamilton (Death of a Citizen, The Wrecking Crew, The Removers, etc.)
3. Travis McGee series by John D. MacDonald (The Deep Blue Good-by, Nightmare in Pink, A Purple Place for Dying, etc.)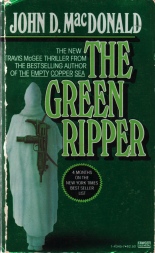 4. Red Harvest by Dashiell Hammett
5. The 87th Precinct series by Ed McBain (Cop Hater, The Mugger, The Pusher, The Con Man, etc.)
6. Edge series by George G. Gilman (Edge: The Loner, Edge: Ten Grand, etc.)
7. Parker series by Donald E. Westlake / Richard Stark (The Hunter,The Man With the Getaway Face, The Outfit, etc.)
8. The Gor series by John Norman (only read books 1-5; the series goes downhill fast after these.)
(WARNING: As I noted above these are pulp fiction. You will read tales involving sex and violence. If you are looking for mind-expanding liturature, I can suggest other titles. But if you are looking for pure entertainment value, every one of these authors will beat the pants out of today's Hollywood blockbusters.)